Bio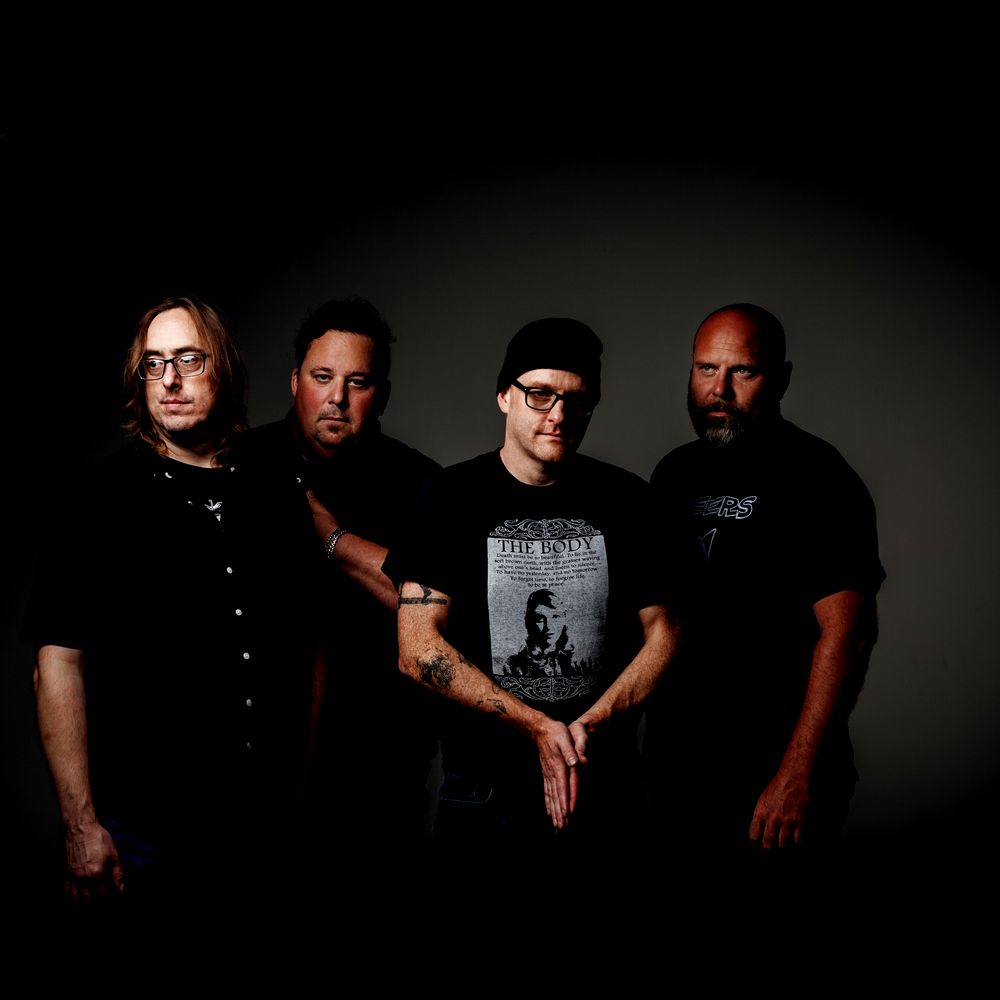 The sound of an 80s prom in a war zone…located in the dead heart of country music, Nashville, TN.  
That is the sound and spirit of Palm Ghosts, as far from the honky-tonks and pedal taverns of their adopted city as one can get. More at home in rainy Manchester or blustery Berlin, the quartet weaves early cinematic dream pop and new wave with brooding post punk.  
Palm Ghosts has a long history, as Joe has carried the name since his Philly days when the project had an indie folk sound.  But, it is the current iteration of the band that sounds more like a clap back to the sound for which Nashville is notorious.  Embracing their 80's idols, like New Order, The Cure, David Bowie, John Carpenter and even Divine, these Nashville transplants released 2018's Architecture.  With a steady stream of singles and EPs, the band has continued to write music that sums up the lot of their 80's youth, but their most cohesive effort is now.
Like most bands in 2020 trying to stay sane, the band had to email ideas and tracks back & forth.  Somehow that isolation fueled a new immediacy and energy in their songs that only a year of pandemic, protest and political turmoil could elicit.  The fruits of that labor, Lifeboat Candidate, is a dark and dystopian effort, filled with confusion and dread, albeit with a bit of humor and hope.  The album is a relentless statement, not giving a pause between tracks to breathe like the micro machines spokesman, yet as suave as Dean Stockwell in Blue Velvet.  
Blind, the album opener, is about suspicion and paranoia standing in the way of truly seeing people, and consequently sounds like a comment thread of mired arguments over an underlying harmony. The frenzied Dead Inside is almost an extension of that theme, where the narrator is frozen in the space between self preservation and empathic change when becoming aware of a world bigger than their own, yet ultimately deciding to treat the epiphany as a con.  Because we aren't completely pessimistic, we thought you should also check out Carry the World, inspired by stories of family separation in scientology and the struggle against beliefs that make strangers of those closest to you.  In the verses, one party pleads with the other to leave the belief and the chorus responds…favorably.  See, we aren't completely hopeless, but then this was before our city was bombed by a 5G conspiracy terrorist.
In 2021, we hope to scream and sing and dance in public again, but we will definitely be releasing a lot more music.  We are relentless, with a lot left to say, but perhaps these people say it better:
Manchester's Analogue Trash describes Palm Ghosts as "Achingly beautiful, fragile and majestic music. An intoxicating mix of Shoegaze and Dream pop, taking from the 80's but not in debt to it"
South Africa's Jangle Pop Hub has said the band has "An inimitable 80's style dream pop that mixes the avaricious swirl of The Cocteau Twins, the atmospherics of The Cure and the grandiosity of Echo and The Bunnymen"
Palm Ghosts is:
Benjamin Douglas- Guitar, Keys, Vocals
Walt Epting- Drums, Percussion
Joseph Lekkas- Vocals, Bass, Keys 
Jason Springman- Guitar, Vocals, Keys
Press for "Lifeboat Candidate"
ABC NEWS:  https://abcnews.go.com/Entertainment/wireStory/review-palm-ghosts-materialize-fresh-sound-76517417
POP MATTERS: https://www.popmatters.com/palm-ghosts-dead-inside-premiere.html
NASHVILLE SCENE: https://www.nashvillescene.com/music/features/article/21146453/palm-ghosts-embrace-pop-and-dystopia-on-lifeboat-candidate
POST-PUNK: https://post-punk.com/palm-ghosts-delve-into-societal-unrest-with-blind/
WE ARE CULT: http://wearecult.rocks/palm-ghosts
ROCK AND ROLL GLOBE: https://rockandrollglobe.com/new-wave/listen-ghost-of-a-chance/ 
TAKE EFFECT: https://takeeffectreviews.com/march-2021-4/2021/3/25/palm-ghosts
ANALOGUE TRASH: https://www.analoguetrash.com/blog/palm-ghosts-blind
NASHVILLE NOISE: https://www.nashvillescene.com/music/features/article/21146453/palm-ghosts-embrace-pop-and-dystopia-on-lifeboat-candidate
Press for "Architecture"
MUSIC NEWS (UK): https://www.music-news.com/review/UK/13384/Album/Palm-Ghosts
LOUDER THAN WAR: https://louderthanwar.com/watch-this-palm-ghosts-takes-indie-pop-to-new-innocent-heights/
DANCING ABOUT ARCHITECTURE: https://dancing-about-architecture.com/architecture-palm-ghosts-reviewed-by-dave-franklin/
FLOORSHIME ZIPPER BOOTS: http://floorshimezipperboots.blogspot.com/2018/07/palm-ghosts-architecture.html
JAMMERZINE: https://jammerzine.com/the-test-drive-palm-ghosts-architecture/
GET INTO THIS (UK): https://www.getintothis.co.uk/2018/06/unknown-pleasures-166-ft-palm-ghosts-faex-optim-xeresa/
GUTESHOERENISTWICHTIG: https://guteshoerenistwichtig.blog/2018/06/20/harmonie-des-nachtlichts-palm-ghosts-architecture/
WE ARE CULT: http://wearecult.rocks/palm-ghosts-architecture-reviewed
LIVERPOOL SOUND AND VISION: http://www.liverpoolsoundandvision.co.uk/2018/06/10/palm-ghosts-architecture-album-review/
Press For "Greenland"
"I love this album. The music has that Americana sound to it, processed through an urban yet deserted existence. There is an innate sadness to the album peppered with a sense of hope, slight though it may be. This is great music for early evening or dawn when you feel a little blue and like that feeling." – Audio Fuzz
"Dawes-esque Americana meets REM-style '90s guitar-rock jangle in the sonic equivalent of a well-worn, trusty jacket. You may not have heard this song before, but it will feel familiar and great as soon as you do." – Independent Clauses
"East Nashville Americana project headed by Philadelphia native Joseph Lekkas drops its latest album, which calls upon the jangle of R.E.M., the limpid folk of Simon & Garfunkel and lots of country- and folk-rock touchstones." – Milwaukee Journal Sentinel
"Palm Ghosts is a creamy rock project influenced significantly by Americana. '70s brit-blues and '60s beat permeate the soundscape delivering music in which the listener can delightedly lose all track of time. From the most recent LP –Greenland (available on bandcamp) – the third of the fifteen, Audra, is my pick of the release." –Emerging Indie
Press for "Palm Ghosts s/t" 
 "Elegant and Sweeping Pop" – WXPN's The Key  
"Folk loves its sadness, but this beautiful song is warm nostalgia in song form. It is hard to put together an album that holds a consistent instrumental palette, melodic thrust, and overall mood without getting repetitive. Palm Ghosts has accomplished this difficult task on their self-titled record.  Palm Ghosts lives in a warm, relaxed space with just a touch of ominous haze on the horizon, carving out a space for itself next to artists like Damien Jurado." – Independent Clauses
"A balance of singer/songwriter styled pop that walks along the indie rock border and comes together with a more traditional country base and carries you over a dusty trail rhythm, this is truly a combination that the Philadelphia based group can call their own." – One Stop Country
"Some of the music I listened to on this album transported me to a feeling of peace, relaxation, comfort – like everything was going to be okay. So, I hope whatever you're going through, you take the time to enjoy music, because that's what really gets me through the tough times." – Spec Blog
"Singer-songwriter Joseph Lekkas demonstrates that Americana music can sprout and bloom anywhere, including Philadelphia." –Milwaukee Journal Sentinel
"Palm Ghosts is the new band/project created by Philadelphia, Pennsylvania's Joseph Lekkas who was previously in the band Grammar Debate. After that band dissolved Lekkas took some time off from the world of music…only to realize a few years later that creating music was "...necessary to beat his anxieties." Thus, the band now serves two purposes. To beat the anxieties of the musician…and to relieve anxieties in the minds of those who hear it. Recorded in an old warehouse during an intensely cold winter, this self-titled album presents intelligent songs that are inspired and real. These tunes remind us somewhat of Starflyer 59 except the overall feel is somewhat more folky and reserved. Lekkas has a great voice and a real knack for knowing how to put the pieces together. These tracks are resilient, personal, and reflective. Our favorite cuts include "Dr. Tiger," "Airplane Jane," "I Know You Won't Break My Heart," and "All My Life (I've Been Waiting.)." – Baby Sue